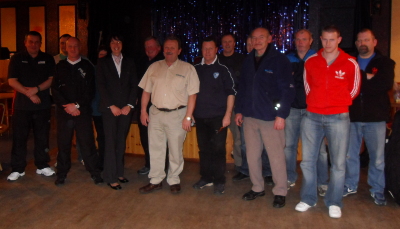 Congratulations to ALL Clubs on becoming the first Junior League to be Accredited in Wales.

Mr Aled Roberts - Head of Service (Leisure & Communities) Isle of Anglesey County Council said;

"Cefais glywed ddoe fod Cynghrair Ieuenctid Mon y gyntaf yng Nghymru i
gael ei accredu gan y Gymdeithas Droed Pel Droed.

Carwn ymestyn fy llongyfarchiadau i'r Swyddogion, a phawb arall sydd
wedi cyfranu at y llwyddiant. Mae adlewyrchu'r diddordeb mawr sydd ar yr
Ynys mewn pel droed, ac hefyd diddordeb a bwrdfrydedd yr oedolion ar
drwas yr Ynys, sy'n gofal a threfnu pel droed i'r ieuenctid.

Deallaf fod perthynas ardderchog rhwng swyddogion y Gynghrair a Geraint
Williams, Swyddog Datblygu Pel Droed yr Ynys, a credaf fod hyn hefyd
wedi cyfranu at lwyddiant yn cyrraedd safon yr accrediad.

Llongyfarchiadau unwaith eto - daliwch ati".

ALED ROBERTS
Pennaeth Gwasanaeth - Hamdden & Chymunedau.

*********************************************

Mr Gus Williams - Football Development Officer said;

'May I Congratulate the League on achieving this milestone in Junior
Football. To be acknowledged as the first Junior League to be Accredited
in Wales is a statement that only reflects the sincere effort and
dedication of the Officials and Volunteers who operate within that
League. I for one have witnessed at first hand the amount of hard work
you do as a League of People who come together as volunteers to ensure
that Football is enjoyed by the children in a secure and safe
environment strengthened by the Accreditation Criteria.

In closing may I take this opportunity to Thank You all for your
co-operation and endeavor. Long may It continue now through to the next
level of ensuring that the Accreditation process becomes effortless for
you all.'

*******************************************************

A message from the League Chairman is on his profile under OFFICERS OF THE LEAGUE